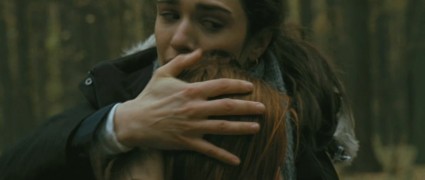 Any time a movie deals with a difficult topic, be it murder, rape, genocide, or simply the horror of humanity, it's precisely as difficult to do it justice. Unfortunately, The Whistleblower fails to achieve its goal. From first time feature director Larysa Kondracki (also the co-writer), the movie is loosely based on the real life story of Kathryn Bolkovac, a former policewoman who uncovered sex trafficking in Bosnia. And the conspiracy, as you'd imagine, goes all the way to the top. Rachel Weisz (The Mummy, The Fountain) plays Bolkovac, utilizing her finest American generic/Midwestern accent (and doing a nearly perfect job with it).
After a divorce where her ex-husband and kids are moving to another state, police officer Kathryn takes a job working for a UN defense contractor in Bosnia to make enough money to afford living closer to her kids. Once there, her willingness to defend women in a very sexist justice system brings her to the attention of Madeleine Ress, played by Vanessa Redgrave (Howards End, Mission: Impossible), who acts as a mentor in a very light and almost non-existent part. She also begins a random (but apparently true) affair with a colleague Jan, played by Nikolaj Lie Kaas (Angels and Demons).
At the same time, there is a another storyline of Raya, played by Roxana Condurache, who gets abducted with a friend in Kiev and sold into a Sarajevo brothel, which is where Kathryn eventually finds her. Of course, things aren't so simple even after the rescue, as corruption is everywhere, from her boss Fred Murray (David Hewlett) to random guard Nick Kaufman played by Benedict Cumberbatch (Sherlock). She is also impeded by bureaucracy in the form of cold and efficient Laura Leviani, played by Monica Bellucci (Shoot 'Em Up, The Matrix: Reloaded), utilizing a vaguely European accent, and the local head of operations played by William Hope (Aliens, Sherlock Holmes) in an impressively sinister role. Other than her mostly absent lover Jan and mentor Madeleine, she is assisted by Peter Ward, an Internal Affairs worker played by great character actor David Strathairn (Alphas, Good Night and Good Luck).
This is not a happy ending sort of film, and you will not be surprised by the eventual twists and turns. The movie is quite a bit long for what it's trying to do, just a bit under 2 hours, and although the acting is excellent for the most part, many parts seem unnecessary. As in, "Why are we seeing this?" The film does not shy away from showing horrific imagery, but sometimes it becomes overused and no longer as effective. And some of the corrupt cops are essentially cartoonish villains, which makes the situation less real and therefore seemingly not as reflective of reality.
Rachel Weisz is also very good in this film, which relies on her almost exclusively, but it sometimes overloads with new things to keep in mind and too many characters to worry about. Some important story twists are undercut by "Wait, who's that guy again?" a few too many times. Overall, this is a dark and unpleasant film about a very terrible subject that doesn't pull any punches, but some of those punches overextend themselves a bit. It's a good first time effort, and a decent attempt to shed light on this subject, but it doesn't quite work. This is a movie for those who don't want to see a movie where they feel good afterwards. But on the other hand, if it does help with the trafficking or corruption in even a small way, perhaps the deficiencies can be overlooked for the greater cause.
Photo Credit: Samuel Goldwyn Films