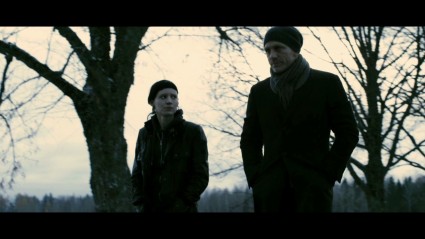 For those who haven't read the original The Girl with the Dragon Tattoo novel or seen the Swedish version of the movie — don't worry, I hadn't either, and it didn't much matter, I think. I watched a bit of the Swedish one back at home to see the differences in casting and filming, but that was really to get more information.
The Girl with the Dragon Tattoo is the latest movie from acclaimed director David Fincher (The Social Network, Se7en, Fight Club), based on Stieg Larsson's posthumously released bestseller. The movie is entirely in English, albeit with vaguely Swedish accents (some more successful than others) and all of the original Swedish names and locations. The film starts with Mikael Blomkvist, played by Daniel Craig (Cowboys & Aliens, Casino Royale), a disgraced magazine journalist who was sued successfully by billionaire CEO Hans-Erik Wennerström, so he retires himself to give his fellow workers a break from the bad publicity. But at the same time, he is being investigated by a social waif and computer hacker Lisbeth Salander, played by Rooney Mara, for elderly CEO Henrik Vagner, played by Christopher Plummer (Up, National Treasure). Henrik has been looking for a good investigative journalist to help him solve the 40 year old unsolved murder of his niece Harriet.
And in the small fictional, frozen town where all the Vagners live, everyone is a suspect. Soon enough, Mikael discovers that he had been investigated, and asks to bring on whoever it was as a research assistant — this was, of course, Lisbeth. Lisbeth has had many problems of her own, declared mentally incompetent to care for herself by the state and sexually assaulted by a legal guardian. But this is mostly backstory for the inevitable mystery that Mikael and Lisbeth work to solve, each using different but equally effective methods of investigation.
This movie, like most of Fincher's work, is slick and stylized, with an impeccable soundtrack and absolute fearlessness for very explicit imagery. You may have heard about a violent sexual assault on Lisbeth early in the story — and Fincher doesn't shy away from this at all, although things aren't entirely bleak and miserable. If you don't care for nudity or sex scenes, this is not the movie for you — there is quite a bit of this, although I wouldn't say it was being exploitative. Even so, it can be difficult to watch.
The acting is excellent across the board: Daniel Craig, wavering accent aside, is great as the vaguely worried journalist (although quite a bit different from the portrayal in the Swedish version). Christopher Plummer is great as per usual, bringing a pathos to a man slowly falling apart, and Stellan Skarsgård is utterly fantastic as Harriet's worried but competent brother. But obviously the star of the film is the titular maiden, and Rooney Mara embodies this role with a shockingly watchable intensity. She's disturbingly thin and frighteningly angry in a wordless manner — any positive emotions are a thing of wonder in their rarity.
Unfortunately, and this is probably a product of the book itself, the story doesn't quite seem to know how to end. Although I wouldn't say the final moments of the dénouement are bad, per se, the movie seems to want to end several times before it actually does. Still, although it is a hard and difficult movie to watch at times, the film has a raw honesty that is impressive even through its slick veneer. Sometimes it's fun to see the threads of a convoluted mystery unravel while the opposite happens to the investigators. If you can handle explicit imagery and themes, it's a good movie — if not, skip it and go rewatch The Social Network.
Photo Credit: Sony Pictures