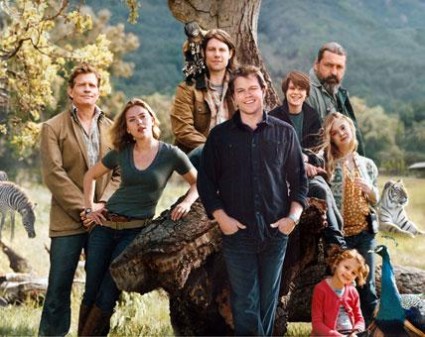 I did not want to see this film. I'd seen enough television spots for it to realize right away I was not interested in it.
But it was Christmastime. Every other family offering on the roster had been caught so it was either We Bought A Zoo … or it was a trip down to the local Redbox to grab something viewable in the comfort of the living room. Being that everyone really wanted to get out of the house for a change of pace, We Bought A Zoo it was. (Parents know: Sometimes? You do what you gotta do … regardless of whether you want to do it or not. And that means going to a movie you really don't want to go to.)
Now … it's a matter of fact in my book movie going often entails heading off to a flick without any prior knowledge of the source material. You're going to a film to be entertained, after all. Why encumber yourself with a lot of angst about it, comparing and dissecting and picking nits all along the way? Yes … there are situations as a critic when this is necessary, but this was not one of those instances. Additionally, there are times it's best to leave a review of the film unread … be it from a fellow colleague or otherwise. And such was the case with We Bought A Zoo as reviewed by my cohort Jeremy Fogelman.
Before going any further it needs to be stated — regardless of how things may appear — I am not in the habit of countering Jeremy and his reviews at every opportunity that might present itself. But I did once before and here I am doing it again. Trust me when I say it's nothing more than mere coincidence. (If it happens again, however, Jeremy can officially call me on harassment.)
Now, whereas I may have been manipulated into going to this film, I was anything but manipulated into liking it. Overall, We Bought A Zoo was a pleasant treat from Cameron Crowe. The family interactions were plausible given the circumstances of a father who's lost his wife and is raising his kids solo (and no, it didn't bother me we never found out how Benjamin's wife passed; there was no need to do so), the interactions with the zoo staff were oft times amusing and interesting in their own charming ways and, finally, the interaction with Inspector Ferris had both myself and my girls engaged. All these things were obviously a direct result of the writing in the film, none of which I had a problem with. Things motored along swimmingly, I never found myself bored or otherwise with the film and it effectively undertook the business of keeping me entertained without unnecessary convolution. As stated previously, I didn't want to see it, so I greatly appreciated the film not being overly complex to the point rapt attention was needed in order to enjoy it.
You know the one thing I really didn't like? Benjamin's brother, Duncan (Thomas Haden Church). I have yet to find what's good about Church in the movie world because he hasn't impressed me yet. And I'll freely admit that that might just be my problem. I will agree with Jeremy's assessment of Duncan — he was irascible and craggy. He didn't trip any triggers with me at all. I know Church started out in radio and voice over and, as far as I'm concerned, that's where he should have stayed.
Regardless of my sniping of Church, at the raising of the house lights at its conclusion I found I'd become a fan of this film I didn't want anything to do with. I didn't have to concentrate on it, I wasn't required to invest my soul in order to find it engaging. It was simply a friendly, agreeable film I ended up enjoying without the need to compare notes from its history. And, for me, those are elements that can add up to an enjoyable film.
Do I recommend it? You bet. It left me hopeful and with that feel good feeling as I left the theater. And there's nothing wrong with that.
Photo Credit: 20th Century Fox