Flicks on DVD and Blu-ray – Universal 100, Warner Archives, Columbia Choice Collection
Classic films coming to DVD and Blu-ray this week include 'It Came From Outer Space,' 'The Incredible Shrinking Man,' 'Scarface' (1932), 'Lisztomania,' 'The Life and Times of Judge Roy Bean,' 'The Last of Sheila,' 'Portnoy's Complaint,' 'North,' 'Zotz!,' 'The Solid Gold Cadillac,' 'The Old Dark House,' and more!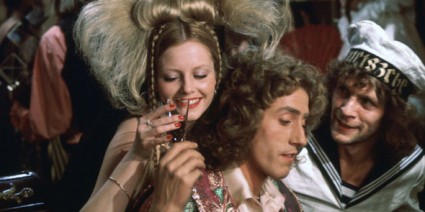 We've already covered the newer releases hitting DVD and Blu-ray this week, but there was such a large number of older catalog titles coming to DVD and Blu-ray (some for the first time), that we decided to do a separate post for these films. Among them are several themed collections from the Universal 100 releases, some very hard to find older titles from the Warner Archives including Ken Russell's cult classic Lisztomania, and some even harder to find films from the Columbia Choice Collection. We'll have more in-depth reviews of some of these titles soon. Have a look at the guide below to see what's coming (titles are released on September 4th and 6th), and click on any link for more information about the film or to make a purchase.

Classic Monsters
Spotlight Collection
DVD

Classic Comedy
Spotlight Collection
DVD

Focus Features
Spotlight Collection
DVD

Iconic Comedy
Spotlight Collection
DVD

Comedy Favorites
Spotlight Collection
DVD

Best Picture Winners
Spotlight Collection
DVD

Abbott & Costello Meet
Frankenstein
DVD

Out of Africa
DVD

It Came From
Outer Space
DVD

Bridesmaids
Blu-ray + DVD

The Incredible
Shrinking Man
DVD

Harvey
DVD

Scarface (1932)
DVD

Eternal Sunshine of
the Spotless Mind
DVD

Atonement
DVD

Lisztomania
DVD

The Life and Times
of Judge Roy Bean
DVD

The Liquidator
DVD

The Last of Sheila
DVD

Portnoy's Complaint
DVD

Young Cassidy
DVD

Having A Wild Weekend
DVD

Seven Seas to Calais
DVD

The Cool Ones
DVD

North
DVD

Zotz!
DVD

The Inner Circle
DVD

The Waterdance
DVD

Safari
DVD

The Solid Gold
Cadillac (1956)
DVD

And Baby Makes
Three
DVD

Final Descent
DVD

Sudden Terror: The
Hijacking Of
Schoolbus #17
DVD

Among The Missing
DVD

The Old Dark House
DVD
Photo Credit: Warner Brothers