Arrow Season Three: Cast and crew preview from SDCC 2014
'Arrow' ended last season with most of the stories tied up in a nice little bow. Will Oliver find a comfortable place where he can live both of his lives? Find out that and more as we preview this season with the help of the cast and the crew.
It is hard to believe that Arrow is now entering its third season. It seems like it was only yesterday that the Internets were abuzz with discussion of Stephen Amell and his salmon ladder. Today Arrow is a much different show than it was when it started: We've gained a Felicity and lost a Tommy. The Black Canary has come and gone (and will be back again) and Roy Harper has gone from street hood to Arsenal. In the meantime, Arrow has developed a rabid fan base and is the most watched show on The CW.
The show has always had a big presence at San Diego Comic-Con, and this summer was no exception. We had the opportunity to sit down with some of Team Arrow while we were there, including Stephen Amell (Oliver Queen), David Ramsay (John Diggle) Willa Holland (Thea Queen), Colton Hayes (Roy Harper), John Barrowman (Malcolm Merlin) and producers Greg Berlanti and Mark Guggenheim. As season three prepares to kick off next week, here's what they told us to expect:
Oliver finally might have everything

Oliver will be – at the beginning of Season Three – a guy who is relatively at peace. "You'll find a happy Oliver," teases Stephen Amell. "Did you see me smile in the preview for season three? It's like, 'What's that???'" Things are so different, that Amell and the premiere director had to figure exactly how Oliver smiled. "He got the baddie without killing him. He's officially become a hero – that doesn't kill and brings them to justice," praises Ramsay. Oliver, at this point, wants to see if he can balance being a normal person and being the Arrow.
His relationships with those around him are changed as well. Amell highlights how things have changed mostly for the better – though not in all quarters – in the video. "Everyone's in a good spot" says Amell. Most important to some fans, is his relationship with Felicity: "There is one woman in his life this year, and that is Felicity."
But how long will it last?
"A large part of Oliver's journey this year is dealing with whether or not he can have it all," producer Greg Berlanti tells us. The previews that we've seen show us that Oliver and Felicity have a moment together, but it looks like it is interrupted. Plus his dynamic with Diggle will be altered by the latter's new responsibilities as a father.
John Diggle: "Daddy Diggle"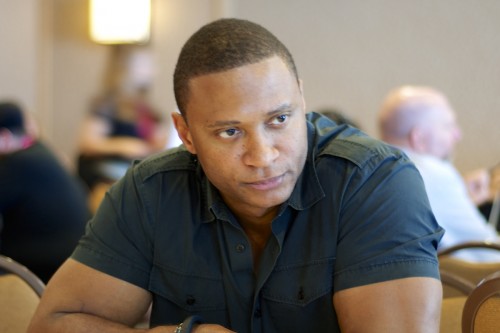 "I always joke that he's going to have a Bjorn and a Glock," jokes David Ramsay. But the challenges of being a new father might not compare to trying to be a father and a member of Team Arrow. "Oliver is really going to have a problem with the idea that this guy's a father and he's risking his life everyday." Being a father changes the dynamic between the two, especially considering what Oliver experiences in the first episode back.
"Diggle has always been the voice of reason," continues Ramsay. Beyond fatherhood, he is also still involved with ARGUS and the Suicide Squad. "We'll see what all of that means to the team." ARGUS will be a big part of the story this season, especially considering Amanda Waller's appearance in the Hong Kong-based flashbacks this year. In the present, Lila starts the season as the head of the organization, but Diggle teases a promotion might be in his future.
Balancing a "real life" in addition to their extra-curricular activities is something both Diggle and Oliver will face, but it sounds like the former will handle it better. Ramsay explains that "some of the things that Oliver wants to do, you're going to see that happen with Diggle."
Roy is a full-fledged member of Team Arrow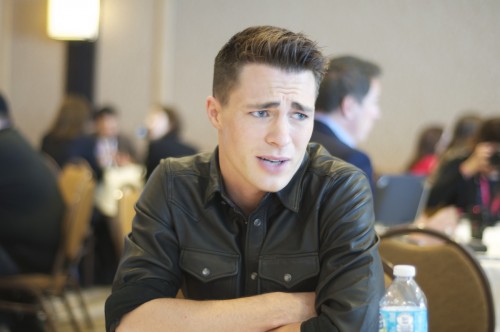 That being said, he doesn't entirely trust everything around him (perhaps a lesson he learned from Thea). Not only that, Hayes says he doesn't think Team Arrow should trust him. But he wants in: "the thing he's been missing his whole life was his family, and he sees a sense of family in Team Arrow."
He continues to deal with the fact that he is the reason Thea left, a secret he is not something going to share with Oliver or the rest of the team anytime soon. But he and Thea will cross paths sooner rather than later, much to the chagrin of Malcolm Merlin.
What about Roy's "identity?" While he didn't confirm Roy's new name, he certainly stumbled over the word "arsenal" when describing all of the weapons he carries. Hayes seems excited to be going all in as far as crime fighting goes, including calling his costume "badass."
No one was talking Thea, not even Thea herself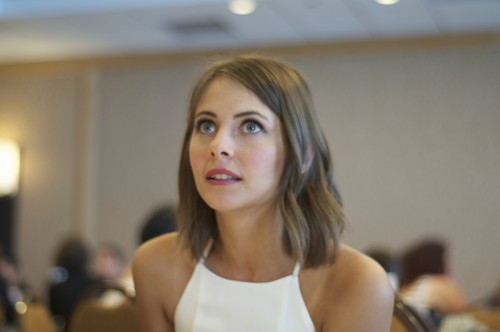 In a show like Arrow, you always expect a lot of vague answers when you ask certain questions. The cast here is particularly worried about saying too much (there's a great run in the video above showing reactions when several think they may have slipped up), but to a person, everyone was steering clear of anything Thea Queen related.
"All I can say is that the Thea Queen you saw leave at the end of season is not the Thea Queen we see in season three." Holland coyly hinted that she works with a personal trainer now and hits the gym everyday. The one thing she would say she's not done (yet) is pick up a bow. "I've not … it's something I ask about, I'm sure everyone asks about, and none of us get an answer." She's taken to the added responsibility, "being told to work out is great."
But when the questions returned to the story, Holland clammed back up, "I can't really give much information out about [Thea and Roy]."
The producers are excited about John Barrowman's return
The producers wanted to get back the air of mystery that the first season had; one of the ways that they plan to do so is the reintroduction of Malcolm Merlin. Barrowman joins the cast full time this season, and that decision pays immediate dividends. Guggenheim explains, "we decided to re-inject [mystery] into the show, and certainly John's character allows us to do that." Malcolm's agenda is mysterious, but we will get to see the second half of the scene between he and Thea at the end of season two. "A big part of the fun of season three is mystery of 'Where is Malcolm and what is he up to?'"
Malcolm and Thea
"Her relationship with Malcolm is very interesting" says Holland. She explains that the decision to go off with someone – even if it was her father – who she knows to be a mass murderer, was a choice that said a great deal about where her character was. Considering all of the trust issues Thea has developed in the last two seasons, going with a character that she wasn't going to bother trusting was different. "She trusts not trusting him."
Malcolm has lost everything except Thea, and he's going to try to control her – which might just be how he shows his love. Barrowman: "He's got to control her by controlling her emotion … that's the way he's going to look at it now. He will love her, in a very different way."
"Malcolm's not evil … I say as I twist my ring like an evil-doer"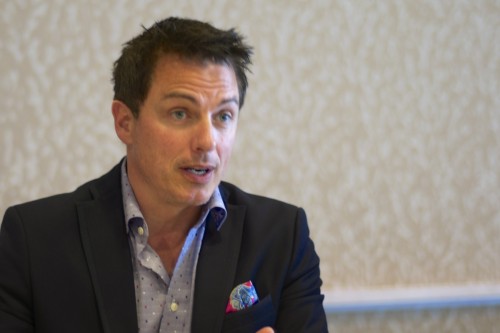 Speaking with actors who enjoy playing their characters is always a treat, and in a room where everyone loved being there, Barrowman stood out. He even went into character to explain his motivations, "If you think I'm bad, lets go back and look at what Oliver has done; we're both doing the same thing and just going about it in different ways." He is pissed about it: "I as Malcolm see myself as the hero; but goddamn it, no one is recognizing that."
"Malcolm can control people with money, power and also his destructive techniques."
It shouldn't go without mentioning that the only reason I got to speak with him after a rotation or two went long, was that he offered to stay back after everyone had left and spent about fifteen minutes putting on a master's class on what makes Malcolm Merlin tick. Since it was so good, I've added the entire video of that session at the bottom of this post.
Brandon Routh's Ray Palmer shakes things up on several levels
Palmer is introduced trying to buy Queen Consolidated – which seems to be standard operating procedure for Arrow villains. Finding the right guy to do that while not coming across as such, at least not completely, was a challenge. Bertlanti:" We kind of had John Wayne with Oliver, that kind of essence, and we wanted Cary Grant."
We've heard that Palmer might be a corner in a potential love triangle with Felicity and Oliver, but it doesn't sound like things start out that way. Berlanti explains that the character is interested in, "this IT girl that went from being IT girl to being the assistant to the chairman of the company, and he's particularly interested in her rise."
How much will Arrow and The Flash interconnect?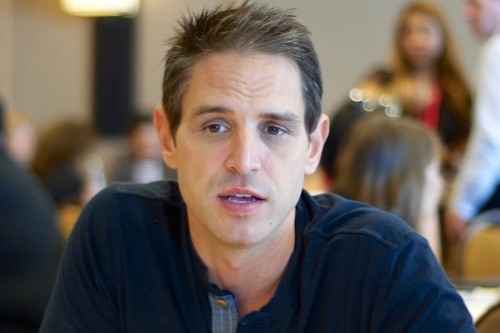 To make life easier on the folks that are working on both shows, the production offices – including editing – are on the same floor of the same building. Berlanti, one those doing double duty on both shows, told us new shows end up taking more time, so the office arrangements will help.
But what about the stories? The universe is interconnected, and the characters know each other, so expect crossovers big and small. Sometimes, like in the second season episode "The Man Under the Hood," and others where the stories – and the villains – are woven together.
This season's theme is "Identity"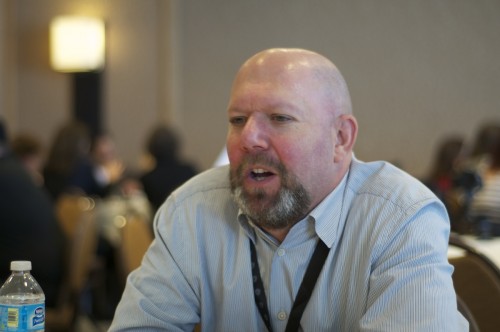 I asked Mark Guggenheim about the third season's theme, and his answer was the most quick – and direct – answer of the day. He was especially excited that the question of identiy extended beyond just Oliver as previous year's themes have focused mainly on the lead. But this year everyone is questioning who they are:
Oliver: Am I Oliver or am I the Arrow?
Laurel: Am I Laurel or am I my sister?
Thea: Am I Moira Queen's daughter or am I Malcolm Merlin's daughter?
Diggle: Am I a sidekick or am I my own man? Am I a father or a crime fighter?
Felicity: Am I Oliver's crush-object or do I have my own identity outside of him?
No really, John Barrowman is awesome
Since his conversation was so great, we've shared it all below:
Photo Credit: Ivey West