Dominion at SDCC: This is what we learned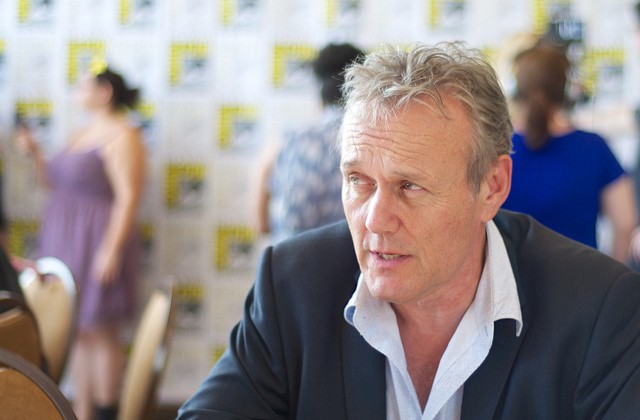 SyFy's 'Dominion's inaugural season is coming to a close. We sat down with the cast and the show's creator at San Diego Comic-Con; this is what we learned.
SyFy's Dominion has developed a strong cult following in its first season. While initial reviews from critics were not that positive, the show has found its niche and turned out a strong narrative. While the show was based on the feature film Legion, Dominion has established its own story than fans are eating up. We sat down with Alan Dale (General Riesen), Anthony Stewart Head (David Whele), Chris Egan (Alex Lannon), Roxanne McKee (Claire Riesen) and show creator Vaughn Wilmott, and this is what we learned (Beware, there are some spoilers for tonight's finale):
The focus on Anthony Stewart Head's accent has been a surprise
While there has been a great deal of focus on Anthony Stewart Head's American accent in the show, we were reminded several times that the cast is internationally diverse (and not just from hearing them speak). Dale says that for non-Americans, "if you haven't picked up an American accent, then you're not very good with accents." But Head isn't bothered by the talk, and likes how the character was constructed. "I could have taken the easy way out and make him a bit of a redneck, but I wanted him to be urbane and smooth."
Reviews, damn reviews, and Twitter
After the initial critical response, Dale was doubtful about the show's chances. The screeners sent out "didn't have the special effects in them, and the critics gave us a really tough time."  He thought that the show was done.
But the fan response has been surprising. While the numbers aren't earth-shattering, they're not bad either. The cast attributes some of the show's popularity to social media, and the live-tweets they do for each episode. "It's been really quite amazing," said Dale. "I love interacting with the fans, tweeting out pics and luckily the cast is really willing to jump in every week."
Alan Dale doubts General Riesen will die of a heart attack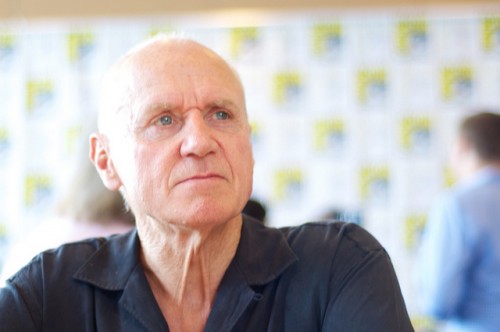 While General Riesen is suffering from a pretty serious heart condition, he believes he's fairly safe. Dale kidded, saying that if we looked in the Guinness Book of World Records, we'd find his picture next to the entry about "Most heart attacks on television." He's suffered heart attacks on several shows, including The OC and Ugly Betty. The producers have assured him that if and when he dies, it will be a violent death. But not ever promise can be kept, 'ya know.
Alex Lannon was not ready for the life he was thrust into
"Alex is trying to figure it out; he doesn't like it." He had a plan for what was going to happen next in his life, and these events have turned that upside down. Egan says that the character is finally beginning to accept his role, though he doesn't think he truly understands it. He likens it to stages of grief: "The anger, rejection and then coming to that stage of acceptance. Each episode has that stage, that I wanted to make as real as possible in this other-worldly world we've created."
But he is beginning to see the advantages … or power … that comes with the distinction. Egan pointed to the episode that had aired last week, where he tried to save Claire's mother, as proof that he was stepping into it.
Claire Riesen is a much different character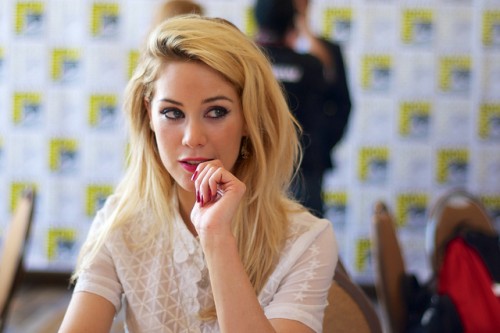 McKee respects the choices that Claire has to make. "I would hope to have the rationale that Claire has. She is doing something for the greater good, and I think she believes that though her heart is telling her to run away and be in New Delphi with Alex, the most important thing to do is to help the masses." She's not so sure, however, that she could do the same in her life
The first season of Dominion has been a coming of age story for Claire in many ways, as the character discovers who she is morally. "Throughout the series she learns to manipulate … for the greater good, for what she believes is the best situation." But as that evolution occurs, we see that Claire is flawed, and while she wants to be as innocent as we found her in the Pilot, she likes the power she is exposed to.
Not all of that change, however, has to do with power. McKee referred to the killing of her mother's inhabited body as an emotional moment for the character, "she lost her innocence … there is no going back, and she feels that Alex is a part of that pain."
Enter Dominion fills out the story's mythos nicely
Much of the material was written in advance, building out the world and the mythos of the show. When it came to the site, though, the staff writers put a lot of effort into filling out the world and writing the prose on the site. Wilmott was proud of the writers, but also of the site's designers, and the decisions made by the team. He particularly likes how the something new is unlocked each week. Wilmott says that "the site does a nice job filling in those details" so that he can avoid long monologue expositions scenes.
There is a little bit of Kings' David in Dominion's Alex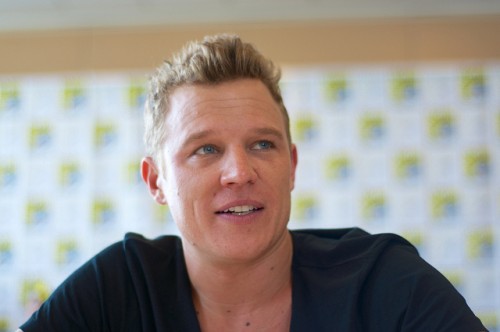 There are similarities between the two roles. Alex "is kind of like David on ecstasy." But he sees Alex as someone who has grown more than David had, and has had to make some tough decisions. "[Alex] is so over it he wants out; but he has to grow up and accept the destiny, or accept who he is as a man. I think we all go though that journey in our life where we come though that stage, not like sink-or-swim, but you're either on this side of the fence or you're not." It sounds like Alex isn't done making those hard choices.
Wilmott says that there is a lot of grey in the characters by design, and that Alex is probably the "most true." "I'm interested in characters that when they do evil things, we may be appalled or turned off by, but we can kind of understand their point of view." But while Alex might be better off than many, "there are shades of darkness in him, and if we're lucky enough to get more seasons, I think we'll see a lot more of those shades."
Counsul Weil is a decidedly un-Giles like character
After kidding with us on what a Giles-version of Weil would be – there were references to drinking tea and constantly cleaning his glasses – Head spoke like he's been looking for more heel-ish roles since Buffy the Vampire Slayer. He referenced Warehouse 13 and Merlin, saying that Uther was a bit of an asshole, but he was one because he had to be. He sees the same in this character:
"David Weil has done a few fairly despicable things, but … he didn't kill Bixby easily; he had a little bit of a pain, but it had to be done." Weil tells himself he is doing things for the good of Vega, and the survivor instinct that all of these characters inherently have (to still be alive) shapes him a good deal as well.
Plans for season two and beyond
While SyFy hasn't – as of this writing – picked up Dominion for a second season, the production team is already planning. "Season two is really going to be shaped out by the choices that are made in the finale." Wilmott says that a pickup announcement could be made within the next couple of weeks, but he couldn't say for sure. The show's series bible was a 40-page document that detailed the first three seasons, so there is a solid road map on what is to come.
So what happens next?
One of the main characters isn't going to make it through this season. Wilmott: "At the end of the season, we're going to have someone not make it out, one of our main characters is going to die." Also? Gabriel is going to be visiting Vega himself. Are those two things related? I'm guessing yes.
"Some shit's going down," teases Head.
Photo Credit: Ivey West