Celebrate Lucy's birthday with Here's Lucy on DVD
August 6th is Lucille Ball's birthday, and there's no better way to celebrate than with a marathon of her classic series 'Here's Lucy' now on DVD.
August 6, 2014 marks the 103rd anniversary of the birth of Lucille Ball. Lucy was and still is a comedy legend, and what better day to take a look back at her last successful network comedy series. (She would go on to one more sitcom, Life With Lucy, but it was short-lived and not very well received). On September 23, 1968 the new CBS comedy Here's Lucy debuted, basically replacing Lucy's previous hit The Lucy Show which had been on the air for six years. Lucy decided that, even though the show was number 2 in the ratings, there were enough episodes for syndication and she was done with TV unless she could have her real-life children join her.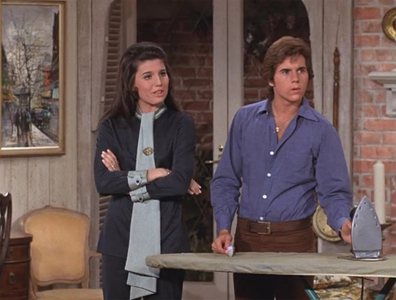 They did and the concept for Here's Lucy was born. In the new show, Lucy plays Lucille Carter (all of her character names contained an "ar" in them as a tribute to Desi Arnaz, whom she credited for her career), a secretary at her brother-in-law's employment agency, and mother of two teenagers, Kim and Craig. The kids were, of course, played by Lucie Arnaz and Desi Arnaz, Jr. and brother-in-law Harry Carter was played by long-time cohort Gale Gordon in a variation of his Mr. Mooney character from The Lucy Show. Lucy's co-star from the last three seasons of The Lucy Show, Mary Jane Croft, also made regular appearances, and even Vivian Vance dropped by a few times.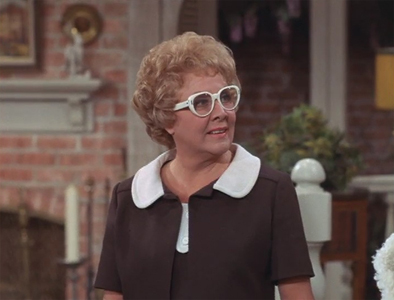 Here's Lucy was groundbreaking at the time because of Lucy's insistence that the show be filmed with a studio audience (although a laugh track was used to juice things up a bit), it tackled some social issues of the era – civil rights, rock music, gender roles in society, the sexual revolution – and they also took the bold move to actually shoot several episodes on location in the style of making a movie, with one camera instead of the typical three for a studio shoot. The show also incorporated Lucy's fractured leg from a skiing accident into the fifth season, with her character in a full leg cast. Lucy didn't want to shut down production because of her injury, so they continued but the slapstick comedy was toned down for her after she was out of the cast but that also allowed her co-stars to shine. This was the first time a Lucy character was allowed to show her age.
Here's Lucy also incorporated a who's who of special guest stars – many of them friends of Lucy – including Carol Burnett, Caesar Romero, Eva Gabor, Shelley Winters, Jack Benny, Wayne Newton, Tennessee Ernie Ford, Jackie Gleason, Liberace, Lawrence Welk and two of the biggest movie stars on the planet, Richard Burton and Elizabeth Taylor (and her famous diamond ring).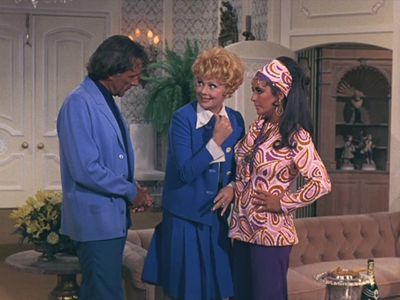 MPI Home Video had previously released all six seasons of Here's Lucy on DVD as individual sets, but they have now repackaged the seasons into one complete box set with a handy slipcase to keep all of the seasons together in one place. Each episode has been digitally remastered and are presented uncut (unlike the versions you'll see in syndication), and they look and sound better than they have since their original broadcasts. In addition to the pristine episodes, MPI has included a wealth of bonus material in each set (contained on the last disk of each season). Here is a breakdown for each season's special features:
Season 1
Meet the Carters (14:24) — Lucie and Desi Jr. talk about Lucy's decision to end The Lucy Show and start a new show with her kids, and their initial reluctance to do the new show.
Let's Talk to Lucy (11:15) — Radio show from 1964, episode 42 with Gale Gordon, illustrated with video clips, stills and personal photos.
Making the Main Title (2:41) — Silent footage shooting Lucy's main title intro
Screen Tests (13:26) — Lucie Arnaz and Desi Jr. audition for Yours, Mine and Ours
Slide Show (3:17) — Stills from the show
Treasures from Lucy's Vault
I Love Lucy Cast Home Movies (11:10) — Silent, color home movies taken during the 1957-58 filming of The Lucille Ball-Desi Arnaz Show
Lucy at LAX (6:04) — Unedited footage from the 1968 episode "Lucy & the Great Airport Chase"
The Chase (4:49) — Lucy and Gary Morton's playful home movie from a vacation to Monte Carol in 1965, silent
Lucy the Model (1:35) — Lucy playfully models a fur coat
Golfing with Gleason (4:59) — Lucy and Gary join Jackie Gleason and a friend for a game of golf
Production Files
17 Years of Lucy (3:11) — On screen text read by Wanda Clark
Here's Lucy Production Information (1:45) — Production information about the show read by Wanda Clark
Lucille Ball Biography (8:53)
Gale Gordon Biography (3:16)
Lucie Arnaz Biography (2:30)
Desi Arnaz Jr. Biography (2:43)
Here's Lucy Promo (1:01)
Syndication Promos (14:48) — Promos for various episodes when they played in syndication
More Promos (8:31) — Promos for various MPI releases including The Mothers-in-Law, The Lucille Ball Specials, Lucy and Desi: A Home Movie, The Doris Day Show
DVD Credits
Photo Credit: Lucille Ball Productions
This Post Contains Multiple Pages: 1
2