Stefanie Powers is profane, vulgar and hilarious in Looped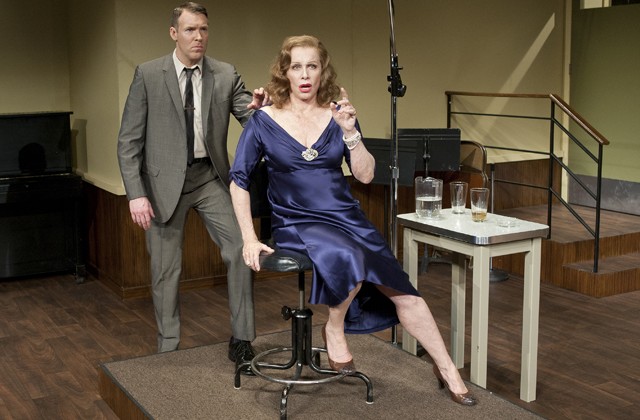 You may not know who Tallulah Bankhead is now, but Stefanie Powers' magnificent performance in 'Looped' will certainly pique your curiosity about the faded Hollywood star.
Unless you're a person of, ahem, a certain age, or are a classic film buff or Broadway baby, you probably have no clue who Tallulah Bankhead is. Ms. Bankhead became a star on stage in New York and England in the early part of the Twentieth Century, and transitioned to the silver screen where she won positive reviews, especially for her star turn in Alfred Hitchcock's Lifeboat, but her reputation off screen — her drug use, boozing and loose morals — became more of a legend that did her talent.
Towards the end of her life, and certainly past the expiration date of her career, Bankhead was contracted by the legendary Hammer Films to star in a psychological thriller called Fanatic (1965, US title: Die! Die! My Darling!), to do for Hammer what Bette Davis and Joan Crawford did for Warner Brothers three years earlier with What Ever Happened to Baby Jane? During production, there was a mishap while shooting a scene between Bankhead and co-star Stefanie Powers that resulted in a single line of dialogue being inaudible. To complete the film, Bankhead had to go to a studio and re-record, or "loop," that line. If legend is to be believed, the session took eight hours due to Bankhead's erratic behavior and that legendary session has been transformed into a stage play entitled Looped.
The show began life at the Pasadena Playhouse in 2008, played in D.C. in 2009, and had a short Broadway run in 2010. Valerie Harper starred in every production, was nominated for a Tony Award, and was about to embark on a nationwide tour before she had to bow out due to illness (which has just been revealed is terminal brain cancer). With Ms. Harper's blessing, the role was recast … with Bankhead's co-star from the movie in question, Stefanie Powers.
I'm pleased to report that Stefanie Powers pulls off the role magnificently.
Looped is now playing at Baltimore's gorgeous Hippodrome Theatre, and while there has been some doubt as to whether Powers could ever fill Harper's (or Bankhead's) shoes, I'm pleased to report that she pulls off the role magnificently. The show takes place in a single setting, a stunningly realized recording studio, and features only three characters: Bankhead, Danny (the actual film's fictional editor, although the real director is name-dropped several times), and Steve the recording technician, who gets to sit safely in his booth for most of the show's running time.
Bankhead's witty and profane one-liners will have you laughing loudly as long as you're not easily offended.
The script, by Matthew Lombardo, fills in enough information about the disaster of a film the studio has on its hands before Bankhead bursts into the studio, already three hours late. From there, Lombardo includes many of Bankhead's witty and profane one-liners — most of them referencing sex, female anatomy, drugs and booze — that will have you laughing loudly as long as you're not easily offended. As the recording session wears on, the script delves into Bankhead's personal life to give the audience a deeper understanding of the actress, showing us that she's not quite the self-centered monster she appears to be. There's also an Act Two revelation about Danny that seemed to stun my audience into silence (and even has some relevance to issues today, which may have been a bit of social commentary put into the script for California audiences in 2008).
Brian Hutchinson, recreating his Broadway role, manages to make Danny more than the one-note character Bankhead see him to be, especially after she breaks down his guard to get his real story. Hutchinson brings the needed bluster and frustration to the character, but he also gives Danny some emotional depth by the end of the show. Matthew Montelongo gives a performance reminscent of Carlton the Doorman on Harper's classic Rhoda series, delivering mostly a series of resigned-to-the-situation one-liners with perfect comic timing.
It's safe to say Looped gives Powers the opportunity to show a side of herself that we've never really seen before.
The star of the show, though, is Powers and I think it's safe to say Looped gives her the opportunity to show a side of herself that we've never really seen before. Powers adopts the body language of an old -time movie star, even one past her prime, and does a pretty remarkable job of recreating Bankhead's familiar gravelly intonations. Powers seems to relish delivering the profanely hilarious dialogue, but she brings humanity to the bigger-than-life star as she talks about her childhood, her mother's death when she was three weeks old, and the psychological damage her father did by blaming her for the death, blame she ultimately accepted and turned to her many vices to ease the guilt. Powers plays it all to perfection, bringing Bankhead to life for a new generation and giving herself a nice career boost in the process. If you had second thoughts about seeing Looped without Valerie Harper, put those doubts away and enjoy a raucous night at the theatre.
Looped plays Baltimore through March 17, then Boston April 30 to May 5, and Hartford, CT. May 7-12. Additional dates for the summer and fall will be announced. For more information, visit Broadway.com.
Photo Credit: Ian Ibbetson