Philly Comic Con 2013: The Good, the Bad and the Cosplay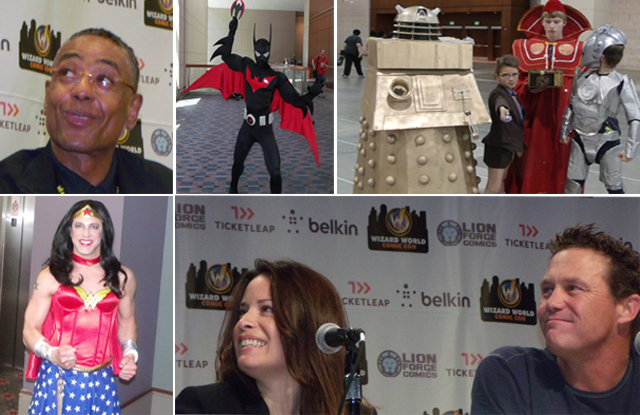 The revolutionary Giancarlo Esposito! The 'Charmed' Reunion! The Green Power Ranger! Actual Guardian Angels! Wonder women on steroids! Costumes! What more could you ask for?
Last year's Philly Comic Con was so awesome and star-studded, I didn't know where to look. In fact, with so many hot up and coming stars attending – Chris Hemsworth, The Vampire Diaries' Paul Wesley, Stan Lee, The Five Captains, Torchwood, etc. I couldn't cover them all. I considered expanding my Philly Comic Con coverage from Saturday-Sunday to Friday-Sunday. Because of last year's astounding number of talent, I briefly wondered if Wizard World made any money and looked forward to seeing them top themselves this year. What are my final thoughts? Well … read on!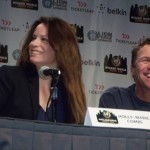 2011's theme surrounded old school nostalgia with Burt Ward\Adam West and Billy Dee Williams. 2012 focused on hot, Hollywood glamour with the aforementioned talent. 2013 spotlighted local talent by featuring Philadelphia geek groups and nationally recognized cosplayers. Favoring restraint, it didn't outdo last year. However, in terms of scheduling, the balance worked. Although I missed seeing multiple celebrities in the autograph booths and casually walking through the arena, this time I managed to catch all the celebrity AND comic panels that interested me AND had time to tour the celebrity booths that intrigued me. This year almost all the celebrities appeared occupied when I walked past. Even if you're not press,  $85-95 price tag for 4 days to see, hear and question your favorite celeb, isn't bad.
For my outline of the good (page 1), the bad (page 2) and the cosplay (page 3), read on. Let me know if you agree.
The Good
John Barrowman is the new Bruce Campbell.
The Lines: 2013 featured even MORE patrons. But, rather than force them to stand in the heat, this year's lines snaked through the air conditioned building. It reduced the feeling of waiting, added more crowd control and kept the lines moving. Also, it saved people from fainting from heat exhaustion. While I missed the impressive lines surrounding the block, people never felt bunched in.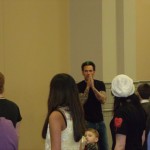 Jason David Frank: I learned a new respect for the Green Power Ranger. As someone in college the time the Power Rangers aired, I looked down upon anyone vaguely affiliated with the show. But, Jason's enthusiasm as a cosplay judge and panelist, changed my mind. Seriously, he was so giving in the cosplay and self-defense panels, I would love to see him return again. He even told people on his autograph line that after 5pm there was no charge to talk to him. Nobody moved. That's how much people loved him.
The Moderators: Mark Lee and Jarrett "the Defuser" Crippen both rocked. Mark Lee, as a new moderator, stood out. Although he looks like an accountant when he steps to the mike, his wry humor reminded me of Jarrett's amazing charm. I appreciated his ability to interact with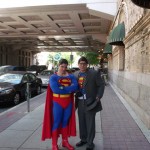 large crowds, while keeping them entertained and surprisingly enthralled. As always, "the Defuser" captivated. I loved watching him direct traffic in the early Saturday morning influx. I keep forgetting he's a cop. He's done this for so long, but he continues to give energy. Even when telling old stories they still sound brand new and he smartly acknowledges their re-telling. When you're in panels with moderators that lack Jarrett and Mark's confident, self-deferential charm, it shows. Jarrett and Mark didn't wait until :01 seconds before a panel's start time to engage the crowd and they aren't shrinking violets so the crowd didn't ignore them until the star arrived. I saw two larger panels with slightly less talented moderators and you can tell the difference. So keep these two jewels in the Wizard World crown.
The Cosplay: I loved the organization for this year's cosplay. It was truly excellent. The runway prior to the stage show and the multiple categories rocked.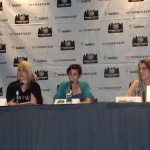 John Barrowman, John Barrowman, John Barrowman: Seriously, he's the new Bruce Campbell. Keep it up, John. Keep it up.
More Geek Culture: Including local groups, Marvel/Zenescope portfolio reviews, a webcomic bootcamp, a Philly geek culture review, cosplay lessons, as well as a strong female artists/writers panel made the con feel more regional. I visited almost all of the panels that interested me.
The Main Floor's Lounge Area – A nice comfy addition
A Direct, 4 Page Program - Hey, it saves paper. In that respect, while I loved wearing a 'Press' placard, a wristband is cheaper and just as effective.
Photo Credit: An Nicholson