San Diego Comic-Con 2014: Controlled chaos at its best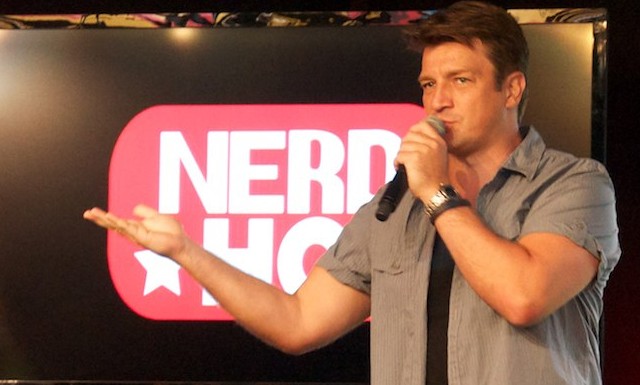 Team CliqueClack is headed to San Diego Comic-Con later this week. There's so much to do, but this is what Ivey is looking forward to most.
San Diego Comic-Con. The summer week that is marked off of my calendar automatically each year. The people behind marketing effort that has dubbed the annual White House Correspondent's Dinner "NerdProm" have obviously never spent their July's in San Diego and have experienced the rock-em sock-em fracas that descends upon the Gaslamp District of San Diego. I've been there – just a couple of times, I don't necessarily have tenure that my partner-in-crime Michael Noble has – and I have lived to tell the tale. And this week? It's time to jump in and do it all again.
Last year was my third Con, and was a bit of an anomaly. I tried taking a different approach; while I had several big-ticket events that I was really looking forward to (Wil Wheaton's Hopcon event, Joss Whedon's NerdHQ panel and the Veronica Mars off-site fan event to name several), I really tried to keep my schedule as lean as I could, which allowed me to experience some things that I normally don't have time for. Mike, Keith McDuffee and I all caught the Cartoon Voices and Quick Draw panels together and had a blast. I took in a couple of the off-site experiences that have popped up (The Ender's Game one in particular stands out … but I did miss out on the Godzilla experience that the rest of the team caught). This flexibility allowed me a random chance to see the Game of Thrones panel in Hall H (and everyone knows that GoT is far and away my favorite property that shows up to SDCC).
This year, I'm back to having nearly every waking minute scheduled. I'm not entirely sure I'll see the inside of a panel room this year … especially considering some of the decision-making Comic-Con International displayed in scheduling TV panels this year. Room 6A is the fifth largest room available to CCI, yet it will be hosting shows like The Blacklist, Vikings, Orphan Black and Outlander … I believe that as a function of capacity, 6A might actually be more difficult to get into than the vaunted Hall H on Friday. But I digress; I have a pretty darn good idea what I'll be doing most of the week.
I'm going to sit down with the cast and creators of some of our favorite television shows. I plan to ask Jason Rothenberg of CW's The 100 about his show's success in its freshman season and where he plans to take things this year. I'm going to find out what is Rob Thomas' new show iZombie is all about. How much can TNT's The Last Ship diverge from it's source material (spoiler alert: I doubt they even read the book)? Do the producers of Legends plan to live up to their #dontkillSeanBean Twitter campaign? How much of Kings' David does Christopher Egan see in his new character Alex on SyFy Dominion?
It took NerdHQ a long damn time to get their panels announced and tickets on sale this year, but once they were available, they were gone quickly. While I think Brown Paper Tickets and NerdHQ did a much better job with the ticket sales this time around, I did have a confirmed seat in my cart for the Badass Women mystery panel that disappeared as I was shopping for another ticket in that wave. Regardless, I did pretty well for myself, scoring a ticket for Zachary Levi's panel, The Last Ship and Garfunkel & Oats (!!!!). And while my attempt to get an encore with Joss Whedon failed, my attempt to trade the ticket did not go unnoticed by the king of NerdHQ himself:
"@Dorv: Failed in getting the @josswhedon #NerdHQ panel ticket I was hoping for, but totally have a @ZacharyLevi one I'd trade." *GASP!*

— Zachary Levi (@ZacharyLevi) July 19, 2014
In my defense, it's not that I don't want to see Zach, I just have a scheduling conflict (the phrase "scheduling conflict" could easily be the subtitle of San Diego Comic-Con).
With such a full schedule, I'm not sure how much of the off-site stuff I'll be able to do this year. Like my buddy Mike, I too will be stopping by the 38th annual Robert A. Heinlein blood drive to drop off a pint or two for the cause. I'm itching to visit the Game of Thrones Survive the Realm experience, because I want a picture with me in the Iron Throne! There's frankly too damn much going on in the Gaslamp District to keep track of it all (Thankfully, the wonderful folks over at Outside Comic Con do all that heavy lifting for the rest of us). I will have to find time for the Assassin's Creed/Schick Cutting Edge shave experience, though.
The nightlife this week is always one of the highlights. I'm particularly looking forward to the to the folks at TNT and The Last Ship hosting a party on the deck of the USS Midway … that's the kind of thing that you just can't do at home. I've always wanted to stop by NerdHQ at night just to see what all the fuss is about, but I think that 2014 will be another year that we won't make that particular trip.
The best part of Comic-Con isn't the parties, the celebrities or the panels (Well, that's only because I could never get into the Marvel movie panel … if I could score a ticket to that, that would totally be better than this next bit). It's the friends. While our fearless leader Keith won't be making the trip this year, my brother-from-another-mother Michael will have my back. Plus, seeing fellow writers from some of my favorite websites is something that only happens – for me – this one time a year. The craziness of the Con is always made better by those you're experiencing it with.
Be sure to check back at CliqueClack during the week. We'll try to have some posts up during the week about the goings on (Hopefully I'll bring back my Daily Highlights posts from last year). Also check us out on the Twitter (@CliqueClack, @Dorv and @RuprechtReal) as we try to keep you up-to-date with the chaos of San Diego Comic-Con.
Photo Credit: Ivey West