San Diego Comic-Con: Days Three and Four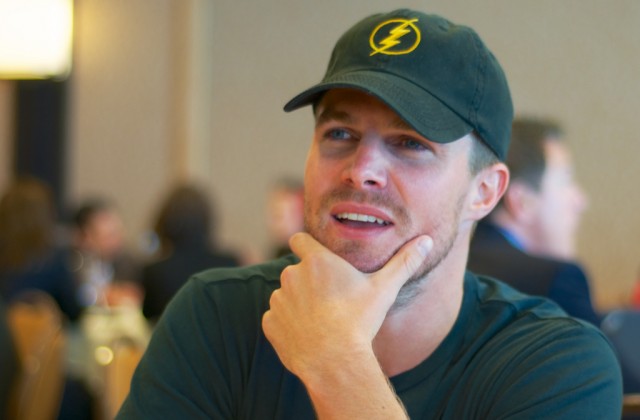 Sadly SDCC 2014 has come to a close. Team CliqueClack had a great week attending. These were the highlights of the final two days of the Convention.
Combined, the first three days of San Diego Comic-Con – including preview night – rarely add up to the crammed schedule that is Saturday. If you're a movie lover – and willing to camp out at least 15 hours in advance (according to my Twitter research on the last person I could find who got in and was sharing) – then Hall H is usually filled with awesomeness from Marvel, Warner Bros. and some of the other studio heavyweights. For those of us covering TV, Saturday is generally as easily congested as many of the shows that have just started production wait until the weekend to make the trip.
For Team CliqueClack, that meant a fun 12 hours hopping from Press Room to Press Room, chatting about the upcoming seasons and new projects with actors and creators. As late as a night as Saturday generally becomes, we've held off until Sunday evening to include the half-day or so we spent at the Convention in one post. Here are the highlights:
While I spent a lot of time at NerdHQ this weekend (more on that to come) Michael attended his first Conversations for a Cause panel featuring the cast of The Walking Dead.
I spent the first part of day with what we could call Team Berlanti at SDCC: The casts and crew of The CW's The Flash and Arrow. One thing that particularly stood out was how much Stephen Amell was excited for The Flash in general and Grant Gustin experiencing his first SDCC as the fastest man alive (see that hat?).
My schedule did a bit of a backflip, but it allowed for an opportunity I didn't think I was going to get at this Con, talking to the cast and crew of the show I'm probably most looking forward to this calendar year, Starz' Outlander. This was great because I'm a big fan of the show and am really looking forward to the series, but also because it was the first time I'd ever sat down with Ronald D. Moore … and I even found a way to ask a (relevant to Outlander) question about Battlestar Galatica, which is the series that was in the impetus that lead to me writing about television in the first place.
First a NerdHQ panel, then a press room with The Walking Dead … it was a zombie kind of day for Michael. The cast was pretty secretive – sadly, though understandably, a theme this year with everyone we spoke too – up to and including running across the room to check in with a producer with what they could and could not say.
My last press room of the day was for SyFy's upcoming event mini-series Ascension. This was one of those odd experience where we knew very little about the series, set for six episodes in November. Fortuately the cast didn't have to be entirely obtuse … they had just finished filming the first episode the day before!
One of the highlights of the trip historically has been the NBC New Media party, and while the party isn't what it once was – though considering NBC's decreasing presence at the Con it is understandable – Michael and I did get to spend a couple of minutes with Grimm's Reggie Lee, who has been an incredible friend to this website for several years now (Though it seems that our editor Keith McDuffee has been much more generous with the homemade honey his household produces with Mr. Lee than he's been with the rest of us).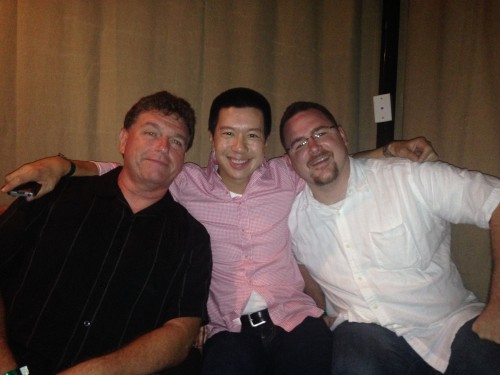 We finished the night by attending the premiere screening of Prelude to Axanar, a Kickstarer-funded teaser/prequel to an upcoming Star Trek based fan film. The short had a surprising solid cast including Richard Hatch (Starbuck plays a Klingon!), the always lovely Kate Vernon and Gary Graham, though it was Tony Todd who stole the show. The first of two campaigns to fund the main film is underway and is at 84% as of this writing.
Sunday is always a little melancholy as the week comes to an end. Michael and I had a quick breakfast at our new favorite spot The Broken Yolk with our good buddy Tom Gardiner from Three if By Space.
At that point, Team CliqueClack went our separate ways. Michael headed to the Convention Center with his two daughters in tow. I spent most of my Sunday at NerdHQ, catching panels for Wil Wheaton & Felicia Day and Stephen Amell. I also experienced my first Nathan Fillion (with Alan Tudyk joining in) "Auction my crap" Panel. If you want to see just how much money those two can raise by signing things they brought with them, you have to check out this video (Especially watch the first two items auctioned … when the final bid came in – out of nowhere – it set a tone for just how generous people would have to be).
The final press room I had on my docket didn't work out particularly well due to a variety of scheduling snafus; sadly we're at the mercy of the insane timeline the talent has to follow while they are in town (and the unfortunate chaos that those press rooms can be).
It's hard not to look back at SDCC 2014 as a success. While it was the first year I've attended without our Editor Keith McDuffee, Mr. Noble and I still managed to have a productive – and fun – couple of days. The highs were high (Ron Moore, a picture on the Iron Throne, Reggie Lee) and the lows were low (San Diego isn't supposed to be that humid, and it actually rained. Twice!). Team CliqueClack acquired a great deal of content that we'll be sharing with you over the coming months. And it's already time to start thinking about what SDCC 2015 might look like.
Photo Credit: Ivey West, Kyle Nolan