Win passes to see an advance screening of Rosewater in Los Angeles
Be the first to see Jon Stewart's directorial debut 'Rosewater' in Los Angeles. Find out how you can win passes to an advance screening.
THIS OFFER HAS EXPIRED. COMMENTS ARE CLOSED.
CliqueClack has partnered with Open Road Films to offer readers in Los Angeles an opportunity to attend an advance screening of the new drama Rosewater starring Gael García Bernal, Kim Bodnia, Haluk Bilginer, Shohreh Aghdashloo and Golshifteh Farahani.
Rosewater follows the Tehran-born Bahari, a 42-year-old broadcast journalist with Canadian citizenship living in London. In June 2009, Bahari returned to Iran to interview Mir-Hossein Moussavi, who was the prime challenger to controversial incumbent president Mahmoud Ahmadinejad. As Moussavi's supporters rose up to protest Ahmadinejad's victory declaration hours before the polls closed on election day, Bahari endured great personal risk by submitting camera footage of the unfolding street riots to the BBC. Bahari was soon arrested by Revolutionary Guard police, led by a man identifying himself only as "Rosewater," who proceeded to torture and interrogate the journalist over the next 118 days.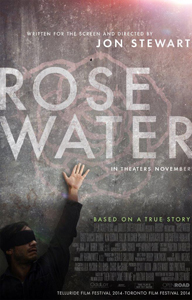 The screening will take place on Monday, November 10, 7:30 PM at AMC Century City, 10250 Santa Monica Blvd #2000, Los Angeles.
A limited number of passes are available on a first come, first served basis. To be eligible, please read and follow the directions CAREFULLY. There will be no exceptions.
Comment on this post ONLY with LOS ANGELES. If you make a mistake, do not edit your comment because it will not register. You must submit a new comment.
Include your FULL NAME (First and Last) and email address on the entry form (NOT in the comment box!). Double check your email address before submitting. If your email address is misspelled, you will not receive passes.
ONE entry per person or couple will be accepted. Each winner will receive a code good for up to Two Admit One passes. CliqueClack has the right to discard any duplicates or comments that appear to be duplicates. Multiple comments from a single person will result in complete disqualification. As this is not a random drawing, only one person per couple needs to comment. Keep these offers fair for everyone!
Check your calendar before commenting. If you have no intention of using the passes, please don't leave a comment. If the studios see that passes we are given to award to our readers are not being used, they will not want to offer us passes for future screenings. Please be considerate!
Please note that passes do not guarantee seats at the screening. Seating is first come, first served so plan to arrive early. CliqueClack has no control over the total number of passes distributed, and is not responsible for seating arrangements at the theater.
Rosewater opens November 14.
Photo Credit: Open Road Films