Philly Comic Con 2013: The Firefly panel kicks ass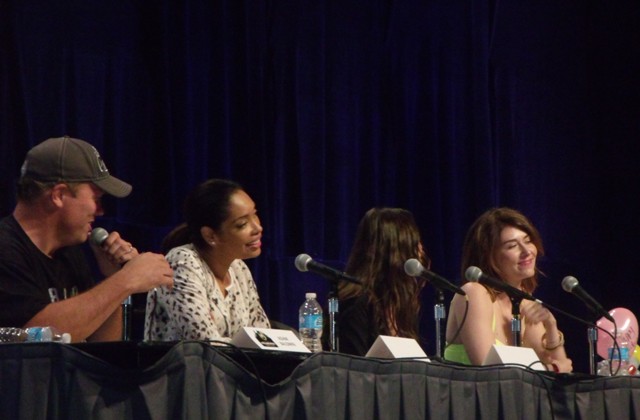 Nathan Fillion who? The 'Firefly' panel reminded me we don't need Nathan Fillion to liven the party. Gina Torres, Adam Baldwin, Jewel Staite and Summer Glau are awesome all on their own.
Who needs Nathan Fillion? Although the Castle big wig cancelled a couple weeks ago, I barely missed him during the uproarious Firefly panel. I couldn't stop enjoying the bawdy dialogue of Gina Torres, Adam Baldwin, Jewel Staite and Summer Glau. Seriously, who knew an entire cast playing a crew of off-kilter individuals, shared those same sensibilities? Jewel had the dirtiest mind, followed by Gina and, after Gina, Adam.
Who knew an entire cast playing a crew of off-kilter individuals, shared those same sensibilities?
While they interacted more with the crowd more than each other, their personalities reminded me of their Firefly counterparts. Jewel typically spouted something highly inappropriate and incredibly sensual. Minutes later Gina slid her own charged statement into the audience. Then seconds after her, Adam Baldwin tried taking it to an EVEN dirtier plane, before Gina reigned him in with an eyebrow. Sound familiar? Summer, like River, appeared the most withdrawn until the moderator started drawing her out.
Gina Torres: "I am queen of the world."
The cast has done INCREDIBLY well for themselves. After listening to Adam detail the difficulties of a struggling actor two years ago while chugging beers (seriously), it's clear that Firefly, Serenity and Joss magic helped all of their careers. Jewel will be in The Killing. Gina is on Suits and Hannibal. She briefly thought she dropped a Hannibal spoiler, but she didn't. Fishburne's character always talks about his wife in creepy confessionals with Lecter. Also, Gina is "queen of the world." And, Adam's filming the Last Ship. Would they answer the Joss call if asked again? Fuck, yea. Joss has the Midas touch. Are there any Joss shows they wish they starred in? Dollhouse got a lot of sleep and Gina needs a good dose of that. The cast all agreed Joss kept Summer busy.
Why didn't Kaylee get laid?
What do they miss most about the show? The cancellation ticked Jewel because Kaylee never got laid. Not having sex was her Kaaaaaahhhhhhhnnnnnnn. If she could've said that while orgasming, she wouldn't've been so ticked. Gina loved/missed Firefly's communal kitchen scenes as that's when she interacted with the female cast members. While watching her tete-a-tetes with Adam amd remembering past episodes, I realized that she was right. Her character never really talked to the women folk all that much. Although Adam loved using the catwalk to watch filming, he exhorted getting to know the propsmaster. While Gina/Jewel busted on him, he didn't deny that always using props meant they edited him into scenes even when he sat in the background. Gina also found the more true she felt to the scene, the more they included her reaction shots because it added to the world the directors wanted to portray on screen. Likewise Jewel and Summer discussed remaining present and trusting their acting instincts.
Out of the entire cast, River and Kaylee's portrayals always seemed the least confident in the TV series. It never made sense considering Summer's Terminator performance and Jewel's randy backwater mouth. But, now I know why. They were both around 19 when Joss cast them. And, now, they've grown into their skills. While discussing their favorite non-crew members, Summer liked Early's quirkiness, characterizing him as a non-villain, while a disbelieving Jewel cried nay.
How about an animated Firefly?
Should the show return? Maybe in animated form, but otherwise, hell, no. The cast wisely realizes they don't need to return. Adam paraphrased Joss' construction of the show as a beautiful far-off castle, best remembered that way. Where are their characters now? Adam joked Jayne would run a school for companions while Summer darkly hinted she always wanted to be a pilot. Jewel envisioned bringing Simon home to meet her folks followed by lots and lots of babies. During Serenity, I thought Joss hinted at a Zoe-wash pregnancy. But, when Wash died I tossed that out the window. Evidently Gina shared my suspicions. Oh, and Gina's ringtone? Wonder Woman. She calls Wash her best fake husband ever, even though her current husband plays her fake husband on NBC. Why did a show featuring so much "terrible" Chinese (inside joke — a questioner confronted the cast about their bad accents and more), not feature any Asian actors? Who knows?
I still can't believe a show with only 14 episodes inspired such a rabid following. Even more than that, I can't believe the PA Browncoats didn't do a rousing demonstration. All the same, I definitely miss Nathan Fillion during this awesome Firefly panel. In fact, I believe it's Nathan who missed out.
Check out more Philly Comic Con happenings here. Check out past Firefly episodes on Hulu. For the audio of the panel, listen below.
Photo Credit: An Nicholson