Win tickets to see Monty Python Live (mostly) in Riverside, CA or Germantown, MD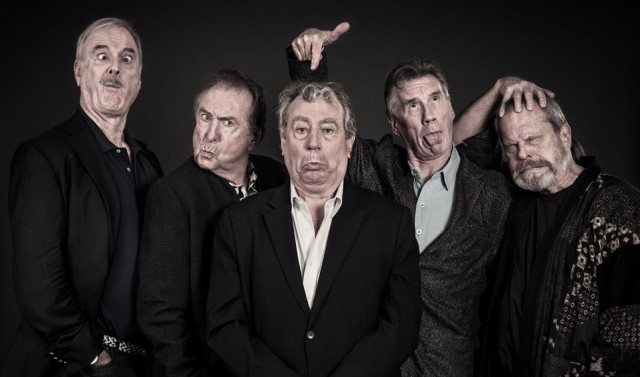 Monty Python reunites one final time for a live performance to be streamed to theaters worldwide on July 20, and CliqueClack has a handful of passes for screenings in Riverside, CA and Germantown, MD. Find out how you can get a pair!
This offer is closed. Please follow CliqueClack on Twitter, Facebook, Google+ and Tumblr for contest alerts, reviews and breaking news.
CliqueClack has partnered with Fathom Events and Picturehouse Entertainment to give readers in the Los Angeles, CA and Germantown, MD areas an opportunity to win free tickets to the theatrical screening of Month Python Live (mostly) on Sunday, July 20th. Tickets will also be available for the rebroadcast screenings on July 23 and 24 for the Germantown screening only.
For the first time in over three decades, comedy legends Monty Python will be performing live on stage together at London's famed O2 Arena. At a combined age of just 361, John Cleese, Terry Gilliam, Eric Idle, Terry Jones and Michael Palin will once again perform some of their greatest hits, with modern, topical, Python-esque twists.
Monty Python are rightfully regarded as among the world's finest-ever comedians. They influenced a generation and revolutionized comedy. Their eagerly awaited reunion promises to be among the biggest live events of 2014. Unless you are one of the lucky few with tickets, Fathom will provide the ONLY, and likely last, chance for Monty Python fans to see the group perform together live.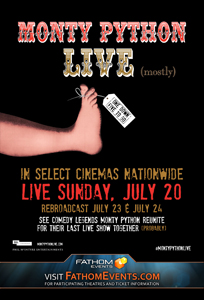 A very limited number of passes are available for each screening on a first come, first served basis. The screenings will take place at the following locations:
Galleria at Tyler 16, 3775 Tyler Avenue, Riverside, CA
Regal Cinemas Germantown Stadium 14, 20000 Century Blvd, Germantown, MD
To be eligible for passes, you must comment on this post with the following (copy and paste for best results)
RIVERSIDE, JULY 20 ALL PASSES HAVE BEEN CLAIMED FOR THIS SCREENING
GERMANTOWN, JULY 20
GERMANTOWN, JULY 23 ALL PASSES HAVE BEEN CLAIMED FOR THIS SCREENING
GERMANTOWN, JULY 24 ALL PASSES HAVE BEEN CLAIMED FOR THIS SCREENING
You must include your full name and email address in the appropriate spaces (not in the comment box). We will accept a request for ONE PAIR of passes! You will be contacted by email to provide your complete mailing address so that the tickets can be sent directly to you. This offer will be good until Saturday, July 12.
This is a limited offer so don't dilly-dally! Comment today!
Photo Credit: Picturehouse Entertainment