Don't mess with NYCC Person of Interest fans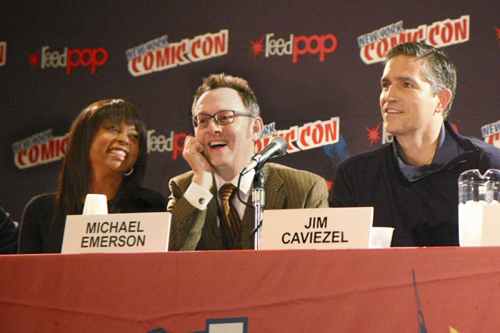 I learned that 'Person of Interest' fans will do anything for their show. They will brave crowds of people who care more for the DC-52 than 'Person of Interest.' They will stand in line alongside Doctors of the Who-verse. And, they will hold their two-year-old children captive when Jim Caviezel appears. In their opinion (and mine), was it worth it? Of course it was!
Last year, I never experienced difficulty finding a seat in any NYCC panel. This year … not so much.
I learned how much people loved Person of Interest while standing in line for the NYCC panel. Wherever I looked during my two days at NYCC, I spied people of all ages — but mostly kids in their 20s — rocking pink hair and latex pants. But, on the POI line, I noticed racially diverse, normally dressed people in their 30s and above. That's when it hit me. These people didn't care about comics, the DCverse, the Marvelverse or the Whedonverse — all they cared about was the Nolanverse. And, that's why they came. For half an hour, I listened to people express their anger at seat hoarders who didn't care about Carter, Reese, Finch or the dog, Bear, while another woman laid out her plans for buying a 3-day pass for 2013 JUST to see NEXT YEAR's Person of Interest panel. Last year, I never experienced difficulty finding a seat in any NYCC panel. This year … not so much. The room was PACKED.
Once inside the panel, you could tell how hardcore the POI fans were from their frenetic energy during the POI teaser reel. It was hilarious watching the two year old in the stroller fuss while her parents — avid fans — watched the panel instead. For this season's surprises, Reese and Zoe will go undercover as a married couple; Finch will appeal to Elias for help; Lionel's past will return to bite him in the ass; Reese gets shot; Mark Pelligrino will guest; and our favorite victim from season two's premiere will return. While I learned a lot from the press room interviews (which I will release shortly), each of the actors shared a lot in the panel itself. And, every time an actor appeared on stage, the crowd went wild displaying their true, hardcore love. Although the rest of this post will focus on the Person of Interest panel, it'd be wrong if I didn't first call out the dedication of the Person of Interest fans.
The audience responded well to Taraji P. Henson who shook her money-maker upon entrance, exhibiting her sassier real life self. She believes her character works with Finch because of his good deeds and joked it's difficult working in a department where no one's "clean" while looking at her on-screen partner, Kevin Chapman, aka Lionel Fusco. Weighing in on the Carter character, Jonah called Carter the show's heart. The show follows her journey chasing the two males while learning she has more in common with them then she initially believed.
Regarding his own character, Chapman spoke about his acting process. He only reads his scenes before shooting and not the entire script, so that he doesn't have more knowledge than his character does, which explains Fusco's believable ignorance.
Although the POI-ites quieted when Jonah spoke, they didn't appear any less rapt. During the panel Jonah revealed his inspiration for the show, having read books on artificial intelligence. He grew up watching the X-Files and loved the story of the week with gradual character development amongst the two leads. (So, HAH, to everyone who pooh-poohed my X-files-POI theory! Note: I say that lovingly.) He calls POI a science fiction show grounded in reality and joked that all of the writers wear "tin foil hats." He's a big Joss Whedon fan and tingled when J.J. approached him with the idea. The show will remain in New York, because he loves it and feels it's one of the most watched places on the planet. Jonah spent the summer figuring out the Dewey Decimal system we witnessed in the season two premiere and loves the parallel between the ancient print catalog system and the bits and bytes of the Machine's artificial intelligence. He thinks it's ironic that they now film the show's sky-view angles using robotic cameras and talked a lot about the iPhone's Siri, which I mentioned in the premiere. He wanted a show to incorporate cable's level of quality.
[Emmerson] feels both Root and Finch had a type of courtship, but admits Finch isn't the best for romantic partnerships.
Although Michael Emerson, Amy Acker and Kevin Chapman received equal audience love, Bear — with his trainer — and pretty boy James Caviezel received the most. Jonah claimed he wrote Bear in because it's a dog loving staff and he wanted Michael Emerson's pooch to have company. Although Emerson smiled, he talked more to the show itself. The writers laid out the conflicts well and he enjoys the growing Machine friction. He likes being the burr under the audience's saddle and admits he was fascinated with Root. He feels both Root and Finch had a type of courtship, but admits Finch isn't the best for romantic partnerships.
For photos of the panel and audio clips, click to the next page!
Check out this link for all New York Comic Con press room interviews and posts!
Photo Credit: An Nicholson/WB
This Post Contains Multiple Pages: 1
2