Experience the third dimension with House of Wax on Blu-ray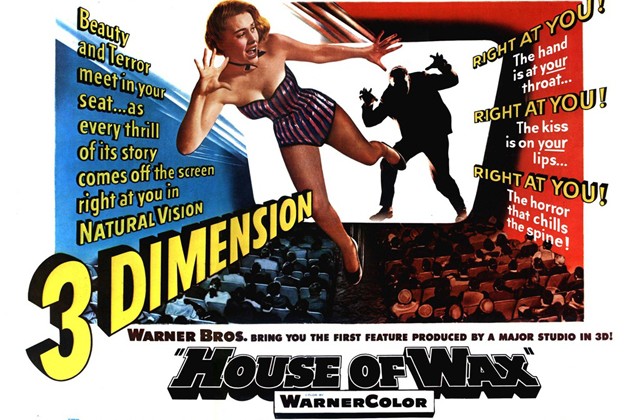 It's Throwback Thursday, and it's October. What does that mean? A whole month of Thursdays looking back at classic horror. First up, the film that made Vincent Price a horror icon and brought 3D to the masses, 'House of Wax.'
It's Throwback Thursday once again here at CliqueClack, and for the month of October we'll be looking back at horror films, TV and even cereals of the past. So sit back, dim the lights, grab a bowl of Franken Berry and join us as we stroll down memory lane … while always looking over our shoulders. You never know who … or what … may be lurking in the shadows.
While most of the world is busy celebrating, justly, the 75th anniversary of The Wizard of Oz, with its spiffy new IMAX restoration and 3D conversion (and we'll have a look at that in another column), a small circle of movie fans, particularly in the horror genre, are celebrating the 60th anniversary of another milestone in entertainment, Warner Brothers' House of Wax starring Vincent Price, Phyllis Kirk, Paul Picerni, Carolyn Jones, Frank Lovejoy, Dabbs Greer and a relative unknown by the name of Charles Buchinsky who would later be known as Charles Bronson.
House of Wax was the first 3D film produced by a major studio, Warner Brothers.
In 1952, filmmaker Arch Obler and his brother, an ophthalmologist, developed a process of shooting film in 3D using two cameras shooting into mirrors which approximated the distance between a person's eyes. Their independent movie, Bwana Devil, wasn't very good but the process made an impression on Jack Warner, who wanted to purchase the distribution rights to the film. He lost out to United Artists, so he rushed his own 3D film into production with the demand that it be shot, edited, scored and ready to hit theaters in five weeks. Warner was told the only way that could happen was if the film was shot in chronological order so each day's footage could be edited then scored, but that it would be more expensive to shoot that way. Warner wanted to be the first major studio to produce a 3D film, so no expense was spared and House of Wax was born.
What helped speed the process along was the fact that House of Wax was actually a loose remake of an older Warner Brothers film, Mystery of the Wax Museum (1933), which was one of the earliest two-strip Technicolor films, itself a bit of an anomaly for a horror film that would normally have been shot in black and white. House of Wax follows the story of an artist who is severely disfigured in a fire which destroys his life's work as well, and the revenge he exacts on those he feels responsible for his plight.
Director Andre De Toth only had one eye, so he couldn't even see in 3D!
Jack Warner hired Andre De Toth to direct the film … but De Toth only had one eye! He couldn't even see in three dimensions but he managed to turn out what is regarded as one of the finest 3D films ever made. His artistry was aided by his cast, headlined by Warner contract player Vincent Price, who had been making movies since 1938 but had never been considered a leading man. Price nearly turned down the film to appear in a Broadway show, but he thought the movie would be a better career move and he was right.
Vincent Price makes us feel sympathy for his character even though we know he's a monster.
This was Price's first real horror film, but he still would not be a true horror icon until five years later when he appeared in The Fly (in a supporting role!). Here, he plays the artist Henry Jarrod, a man devoted to his wax figures, treating them as almost human. When an associate burns down his wax museum, effectively murdering Jarrod's friends and scarring Jarrod physically and emotionally, there will be hell to pay as Jarrod exacts his revenge and tries to rebuild his wax museum using a new process that renders his figures startlingly lifelike. So lifelike that they raise suspicions in Sue Allen (Kirk), who is convinced the Joan of Arc figure is actually her murdered friend Cathy Gray (Jones). Price plays Jarrod perfectly, making him a sympathetic and tragic figure even when we know the monster he has become.
The film's period production design, set during a kind of "Gay 90s" era, is stunning and all of the sets are constructed with careful consideration for the 3D process. De Toth gives each scene a great sense of depth but uses the process for crowd-pleasing moments such as a skeletal arm reaching into the audience or a paddle ball bouncing off our noses (a bit that had nothing to do with the movie, but was pushed on De Toth by Warner to make the crowds happy … and it did). The film's vibrant color also helps make the wax figures look even more lifelike while making Price's burn makeup even more hideous. The film was even presented with a stereophonic soundtrack, dubbed WarnerPhonic, in theaters equipped to handle it. The film was a smash, and even to this day, it remains one of the top ten grossing horror films of all time when adjusted for inflation.
Photo Credit: Warner Brothers
This Post Contains Multiple Pages: 1
2