We're giving away Teenage Mutant Ninja Turtles: The Complete Classic Series Collection DVDs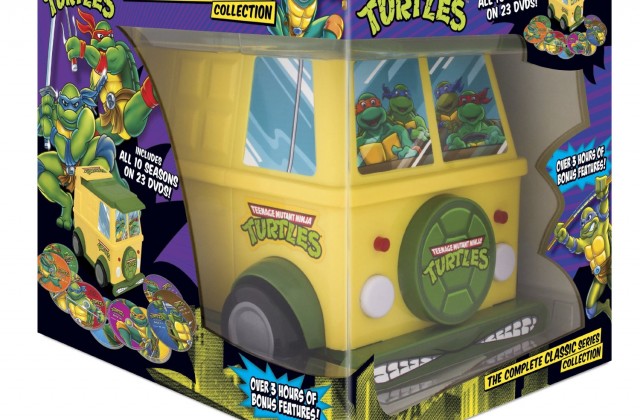 Holy cowabunga, dude! Ahem. We're giving away this radical box set of the entire 'TMNT' classic cartoon series to one lucky random commenter to this post. You can earn another entry using Twitter too!
When this box set arrived at the quiet offices at CliqueClack HQ, sleepy heads rose from keyboards, cobwebs were brushed aside from brows, and mayhem broke loose. You'd have thought The Walking Dead became real, as the Clackers amassed and clawed at the surrounding packaging in hopes of being the one to keep this set for themselves. Lucky for you readers, I was five javas ahead of everyone else and got away with the prize … and my life. All for you!
Yes, we're giving away this incredible collectible set of DVDs, containing all ten seasons of the classic Teenage Mutant Ninja Turtles cartoon and more. What's more, take a look at the packaging! Pretty freakin' sweet, right?
All you need to do is leave a comment to this post saying something cool about the series or why you want the set — more than just "I want it." To have a better chance at it, you can also (or only) tweet the following on Twitter:
I'm entering the #TMNT complete series DVD giveaway via @CliqueClack https://clak.us/p2vh
We'll pick one commenter amongst the comments to this post and from the eligible Twitter tweets, completely at random, and alert them after the giveaway ends on Wednesday, November 21st at Midnight ET (make sure your spam filters aren't blocking mail from @cliqueclack.com!). Only one entry per person per method and you must have a valid U.S.-based mailing address. This giveaway is open to U.S. residents of 18 years of age or older only. Not following these guidelines voids your entry. Good luck!
Photo Credit: Lions Gate