Do not send Venture Bros. creators pot-laced brownies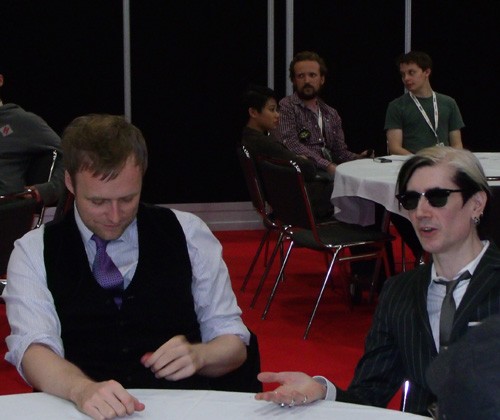 At the New York Comic Con press room, the creators of 'Venture Bros.,' Doc Hammer and Jackson Publick, described the Halloween episode, season five guest stars and their fear of pot-laced brownies.
When Venture Bros. rolled around in 2003 with Patrick Warburton channeling his 1990s Tick awesomeness, I geek-gasmed.
OK. So, two-to-three years ago, I loved the Venture Bros.. I obsessively watched seasons one through three (and four until the December 2009 break). Although I loved the 1960s Jonny Quest cartoon, the original comics and the 1990s Cartoon Network re-boot, I wanted something naughty, something demented and something slightly twisted to play with. I wanted something like The Tick. Dexter's Lab, Johnny Bravo and The Powerpuff Girls nicely fit the ironic retro bill. But, when Venture Bros. rolled around in 2003 with Patrick Warburton channeling his 1990s Tick awesomeness, I geek-gasmed. From minute one, I cheered for Hank and Dean's Bizarro Hardy Boy doppelgangers meets Jonny Quest. I loved Dr. Girlfriend's sexy-ass voice, The Monarch as a failed Cobra commander and Phantom Limb's … um … phantom limb. I cheered for Rusty and the "Boy Genius" who realistically exemplified what would've really happened to 1960s teen sidekicks in the 2000s.
So, when I heard about the Venture Bros. press room at New York Comic Con, I thought "ohmigosh! Venture Bros. are coming back! Finally!"  I didn't know what to expect. They had done practically everything under the sun and both Doc Hammer and Jackson Public were such characters, so I went in with only two questions on my mind: where were they going to pick up when the show returned in 2013 and what twisted versions of 1960s pop culture would they re-formulate?
Like Seth Green a few minutes before them, Doc Hammer and Jackson Publick sat before us with little fanfare. In fact, in the voice recording, you can hear my table scramble to turn on our  digital devices while Doc laid down the hammer regarding journalistic integrity. He hates when people post videos without accompanying text while calling themselves writers. I'll admit, I agree wholeheartedly. I hate it when people just post transcripts or video without descriptions or their perspectives. If I read someone's blog, it's because I'm interested in what they say and their take on the actor who interests me. At first, I thought Doc shared his theory specially with our table, until I heard him repeat the warning to the table after us. (Editor's Note: Yeah, we did this for SDCC — it was a failed experiment.)
Doc Hammer and Jackson Public are all about ingenuity, expressed in their kickass suits, amazing tattoos and show dedication. They love printing the Venture Bros. t-shirts themselves — viewing them as an event — rather than a money-maker. Likewise, they view their Very Venture Halloween special, premiering on Adult Swim on October 28, as an old school Holiday event — similar to the Charlie Brown specials — that people could watch every year while embracing the holiday wholeheartedly.
The fifth season will feature ten episodes including the Halloween special.
Although the Halloween Special will premiere at 11:30pm next Sunday, the TV show won't return until 2013. But, when it returns it will feature the voice talents of Bill Hader (SNL), Paget Brewster (Criminal Minds), Gillian Jacobs (Community), and Tim Meadows (SNL). The fifth season will feature ten episodes including the Halloween special and the hour-long season premiere (which counts as two episodes). Although they haven't started writing it yet, season six will start immediately after season five. But, they're also planning another special. For continuing storylines, the guys will get older and deal with puberty. Although they are unabashed music lovers, at this moment there are no planned 1970s rock star cameos. Doc claims long music tracks hypnotize him into working longer.
So, how will the season five premiere start off? Where it ended. Will we see pop culture mash-ups like Nancy Drew meets the Bobsy Twins or a parody of Trixie Belden?  We can only hope. They love reconstructing old school characters and merging them with others. I mentioned Trixie Belden, because they've already included every single other 1950s mystery sleuth I've ever wanted to see.  Trixie is  a 1940s middle-class Nancy Drew derivative, albeit spunkier. At age 13, she's basically Scooby Doo's Velma — only prettier — with an older boyfriend and her own Scooby gang, the Bob-Whites. If you aren't a girl or an old school mystery lover, you probably never heard of her. But, she's one of those characters I wanted to see parodied and hoped they'd heard of her. They hadn't.
The main problem with sitting next to stars is they casually glance at your notes as you write, forcing you to write even smaller. They also love touching everyone's tech. Last year, Nikita producer Albert Kim pondered my Nook Color while Shane West mistook  my mug for a mini-tripod. This year, you can hear Doc Hammer make deliberate hand fart noises over my mini-digital recorder. Haven's Eric Balfour just played with it. In addition to the fart noises, you can also hear Doc and Jackson good-naturedly stop me from  referencing the show in the past tense.
When we ran out of questions they amused themselves with their recent fears including well-meaning fans sending them pot-laced brownies, believing they'll enjoy them. But, even more than that, they fear the mice that infest their individual apartments. Despite his vegetarian ways, Doc's a cold-blooded — albeit humane — vermin hunter, who doesn't believe in glue traps. Honestly, these are two guys you want to to sit and watch shoot the breeze with each other. And we do, each time we watch a Venture Bros. episode. So, if you haven't seen season four part two, run out and buy it (or wait until they put both season four parts in one DVD set). Don't forget to watch the Halloween episode, next Sunday the 28th at 11:30 on Adult Swim, and look for season five's return date in 2013.
Be sure to check out our other latest NYCC posts!
Photo Credit: An Nicholson