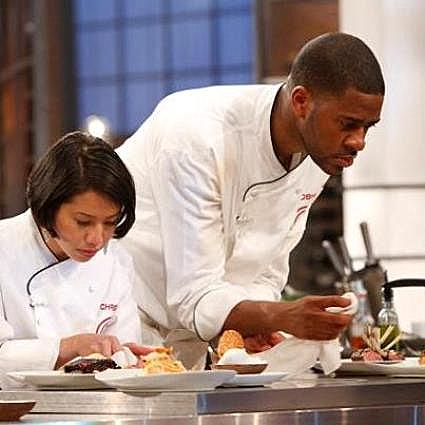 When you look at it from different perspectives, you can see how either of the two remaining home cooks on the last MasterChef of the season could win it all.
On the one hand, Joshua Marks came roaring back after getting eliminated in episode 12. In so doing, he certainly plated some bold choices for Gordon, Graham and Joe to judge. And one of the boldest of all was blending a lobster — shell and all — to make stock for his final appetizer, a glorified lobster and grits dish. Add to that the fact he showcased talent many of his competitors didn't come close to possessing in the end. Lastly, for him to shine in some of the challenges in time frames that were seemingly impossible made some of his feats all the more amazing. There. You have solid, concrete reasons why Josh should win MasterChef.
On the other hand, you have Christine Ha — a legally blind home cook — who has relied on taste and memory multiple times in cooking her dishes. It was said in an earlier episode by Joe Bastianich a good cook who can do just that is a chef indeed. And it's been a winning combination that's worked for her throughout the competition. None of the other contestants could come close to what Christine accomplished with this unique ability. A pretty impressive item to have on your resume and reason enough why she should win MasterChef.
But, as it's been drilled into us over the last two shows: "There can only be one MasterChef." And that person turned out to be Christine.
Was it her final entrée of pork belly that did it? It certainly wasn't her coconut lime sorbet or simple crab salad that won the competition because Josh's lamb and superb vanilla bean ice cream definitely won out over them. Could it really have been his slightly undercooked lobster that took points away? Everything else was masterfully prepared … and surprisingly so per the three judges. But that might have been the deciding factor. Plus the fact Christine has been a truly amazing performer throughout.
I wasn't necessarily pulling for Josh to win, but neither was I whooping it up for Christine to take it either. I figured it could go either way based on their final preparations.
I believed Josh's won out handily over Christine's … but in the end that wasn't the case.
Christine? Congratulations on a job well done. You deserve the win, the title and all that come with it.
Photo Credit: FOX