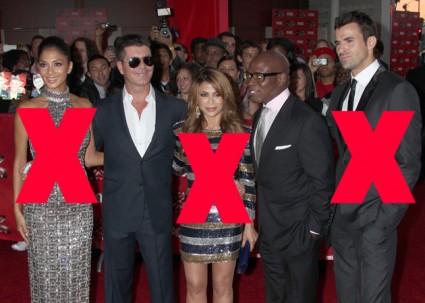 "Birds flying high … you know how I feel … sun in the sky … you know how I feel
Grease driftin' on by … you know how I feel
It's a new dawn, it's a new day, it's a new life for me
And I'm feeling good"
Whatever the reasons, The House That Simon Built got a thorough house cleaning yesterday — for the better in many folks' opinions.
Whether or not a cleaning was in order will be debated for some time to come, but, personally, I'm not having many problems with it. Vapid judge Nicole Scherzinger and Mr. Goony and Good Looking (host Steve Jones) got (in no particular order) the heave-ho and the short shrift with lots of fanfare.
I can understand Nicole's ouster. She was, in a word, vapid when commenting at contestants throughout the season. (I almost couldn't type "commenting" with a straight face) Her war of words with L.A. Reid and Simon Cowell were continuous topics week after week during the premiere season of The X Factor. There was little room for applause for the few good ideas she proffered with her "over 30″ group of contestants … not when the ridicule of her decisions and constant in-fighting with the other judges got in the way. I know I did a fair amount of eye-rolling as well as lifting my jaw off the ground at some of the things she said or suggested post-contestant performance last season. And I'm not just tossing out words when I state her vapidity was evident. Even L.A. Reid pointed it out: "Okay, Nicole, you like everything. Let's hear what you have to say." Bull's eye!
Host Steve Jones is another matter entirely. He came across as an okay anchor for the show, but he wasn't without his faults. He may stumbled in his delivery at times, but he came no where near the antics of monkey boy Vernon Kay over at Skating With The Stars. The rumor mill churns round and round about his goo-goo eyes for Nicole, but who really knows about these things? I'll admit: I'll probably miss Steve when the next season comes along. Probably. Maybe. A little.
And then there's Paula … or "Pauler" as I fondly refer to her. Regular readers (*crickets chirp momentarily*) know she's one of my favorite reality judges of all time. But it seems Simon's little buddy may be out the door as well for reasons unknown. Granted: She was rather the non-factor with her "groups" duties nullified right down to the bone and nothing for her to do in the latter weeks of the show. That was  rather sad, but let's face facts — the groups were horrid and worthless. Nothing but favors were done for Pauler when all groups exited the competition with little fanfare. If this was a contributing factor for her to skedaddle, how can you really blame her?
So again, in the words of Steve Jones, "in no particular random order" it comes down to boys L.A. Reid and Simon Cowell to pick up the pieces and see how things go forward.
Photo Credit: Yahoo!