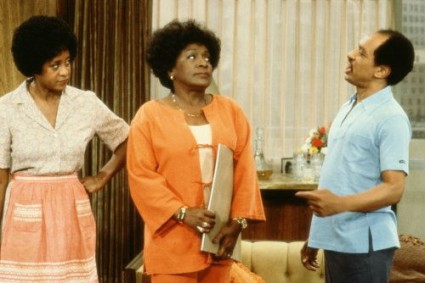 You know, I always said that I could never work in hospitality. I just don't feel I have the patience. Quite the contrary, the likelihood of me taking orders from someone else is about as slim as Teri Hatcher's waistline. Still, it's rather interesting viewing some of the maids and butlers in television shows of the past. It seems that nearly every TV family of the seventies had a faithful assistant or loyal housekeeper to clean up a spill, dust off a vase, or deliver a hilarious zinger to liven up a dull scene.
Growing up as a certified lover of television, I sure did have my favorites. Each of these entertaining supporting characters succeeded in stealing the spotlight from the protagonists of their respective sitcoms. However, none was as funny — or as rude — as Florence Johnston from The Jeffersons. I was on a YouTube high a few weeks ago and decided to watch a few old TV shows. As a fan of retro programming, I'm sure you can imagine my delight at finding such a funny classic. I'm a nerd. Don't judge me. You see, the thing about Florence was that she didn't do windows. She rarely answered doors. She also had a knack for telling off her boss. She told it like it was, and NAACP Image Award winner Marla Gibbs was absolutely genius in the role.
Where they came up with that material is anyone's guess, but Florence was comic gold … and is probably one of the reasons that The Jeffersons survived for over ten miraculous seasons. Aside from George and Weezie, she's easily the most remembered character from the sitcom. The woman was downright comedic! I'm pretty sure that my neighbors were a little aggravated by my loud laughs as I watched multiple episodes on YouTube in which she'd badger the equally hilarious George Jefferson played by the late great Sherman Hemsley. Eh. They'll be alight.
Back in the day, minorities could usually be found in these kinds of roles. I think we all know the reason behind that so I won't get into it. Still, I never had too much of a problem with it. Most of these characters weren't overtly stereotypical and were usually pretty darn funny without being a cruel caricature. In recent years, the role of the funny maids or comical butlers have become a bit more colorful and diverse. The Fresh Prince of Bel-Air had the sarcastic Geoffrey. The Brady Bunch had the all-knowing Alice. The Nanny had the quick witted Niles. Even Two and A Half Men has a funny housekeeper in Berta. Each of these characters has given, or is currently giving, their respective shows a bit more oomph. This is a good thing.
Having treasured Gibbs' delectable performance as Florence, I'm curious to know who your favorite TV maids and butlers are! After last week's discussion about Kelly Ripa's new co-host, I want to have a little fun this week. Don't be shy. Speak your mind! Besides, Florence wouldn't have it any other way!
Photo Credit: Sony