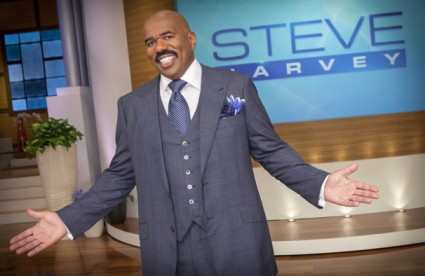 It seems to be common knowledge among my family members and friends that I tend to bore rather easily. Perhaps I suffer from a minor case of attention deficit disorder. Or maybe it's a major case of being hyperactive. I don't know. I'm not Dr. Phil. Still, while I am privy to the fact that I like to be involved in a lot of different activities, I know when I'm doing too much. I wonder if celebrities know the same.
Sometimes I question whether or not fame and fortune brings upon a desire to remain in the spotlight by staying super active. Case in point: Steve Harvey, one of my absolute favorite comedians, who has pretty much done it all. He's perfected stand-up comedy. He's had his own sitcom. He currently hosts a decent morning radio show. His best-selling advice book launched the successful film, Think Like A Man. Am I forgetting anything? Oh, yes — he's the current host of Family Feud, and now he has his very own talk show, The Steve Harvey Show.
Whew, nelly. Now, that was exhausting.
Obviously, Harvey has done a lot, but when is enough enough?
Now, before I go any further, let me be very clear… I am not hating on Steve Harvey. I am not green with envy and I certainly haven't been sippin' on any Haterade. It's too expensive. I just want to know whether or not he's stretching himself thin. I love the fact that Harvey hosts Family Feud. I think it may just be my favorite game show. As I told comedian Jamie Kennedy in my interview with him a few weeks ago, the Family Feud theme song stays in my head. However, Harvey is known for missing some days of his radio show which leads me to thinking that he may be doing just a bit too much.
Ladies and gentlemen, I've never been one to try to hold someone back. I believe if you have a talent then it should be utilized. However, I can't help but wonder if there's a limit to how much someone should showcase — sort of like overexposure in a sense. I'm all for people expanding upon a versatile resume, but in this case I kind of feel as though Harvey should stick with what he knows. I just don't see him as a talk show host. Then again, I didn't see Michael Strahan as the ideal co-host for Kelly Ripa, but that seems to be working out nicely.
I'll admit that I'm interested in seeing Harvey's new talk show. I don't think we've had an African-American male talk show host since Montell Williams. Sheesh. That was ages ago, wasn't it? Still, I think I'd prefer Harvey as a game show host and comedian. He's showcased his intellect in his book, and I wouldn't mind reading more from him, but I don't want the brother to overexert himself. It makes you wonder when he has time for his wife … wife number three I might add. Does the man have a personal life? It's none of my business. Still, with all that he's doing, I'm curious.
With that being said, I think that Harvey is certainly talented. He's definitely one of my favorite funny actors, and his comedic timing is simply superb. He undoubtedly helped Cedric The Entertainer of TV Land's The Soul Man and Wendy Raquel Robinson of BET's The Game become better known with urban audiences. I just watched his old WB sitcom, The Steve Harvey Show — not to be confused with the talk show bearing the same name — on Centric a few hours ago. Good stuff. I'm definitely a fan of Harvey's and I'm not knocking him. I'm just saying that he doesn't have to do everything. Spend some time with your wife, Steve! You don't want her to feel neglected, do you?
After all, that may lead to a real family feud, wouldn't it?
Photo Credit: NBC